SEE WHAT'S NEW --
Every month we add new materials and sections to our website. Unfortunately, we know from experience that most of these will be reports of injuries, deaths and property damage from lightning. Please let us know what else you would like to see by using the 'Contact Us' connection - or let us know if links no longer work so that we can repair them.
Added in June-July
Added in May 2019
Added March and April 2019
Added February 2019
This reached 33,000 communities in Uganda and will serve as 'talking points' for television broadcast on the same topic.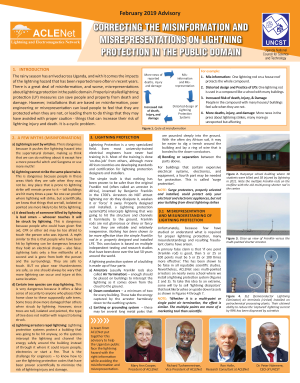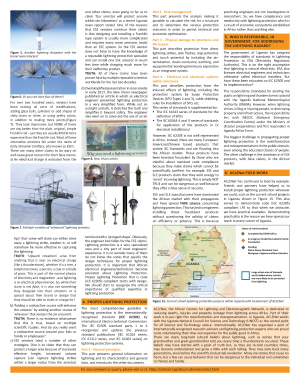 Added January 2019
- Poster presented at the American Meteorological Society meeting, Phoenix, January 2019
Added 2 December 2018
Added 23 October 2018
Ludwick Family Foundation awards $100,000 to ACLENet to protect schools in Africa

We would like to thank the Ludwick Family Foundation for their generous support of ACLENet's work. With this grant we will be able to protect more schools as 'model schools' where proper lightning protection techniques have been installed and where we can teach lightning safety to students, teachers, parents and others across their districts in Uganda.
Added 30 September 2018
Lightning injuries occur worldwide. By making ACLENet's website available in many other languages, we offer support to others who want to decrease lightning injuries, deaths and property damage in their countries. Currently, ACLENet is collaborating with lightning safety advocates in Bangladesh, India, Colombia, Nepal, the United States of America and others so that all of us can share what we have learned in order to reduce lightning injuries worldwide. Everyone is welcome to join this effort and contribute to saving lives.
Initially, we could only able to monitor news reports in English. As more people who speak other languages volunteer their help, we will add injury reports in countries where those languages are spoken as well.

Bill and Melinda Gates started their annual Goalkeepers Report in 2017. It is based on the United Nations Goals and is focused on Africa in 2018.

Guinea-Bissau is the first country that we have added where English is not the primary language. Our plan is to add other countries as we have volunteers who will monitor Google searches for press reports of lightning injury, property damage and deaths that are published in other African languages.
Added 27 August 2018
Added 14 July 2018
Added 9 May 2018
Added March 31, 2018
'Injuries by Country' for Malawi, Rwanda, and Zimbabwe posted.  All countries updated for 2018.
Rwanda - 16 killed and 140 injured in Seventh Day Adventist Church. 
Papers from the International Lightning Detection Conference and Meteorological Conference presented by Vaisala posted.
The February FLASH - Inaugural Issue of our Newsletter
Added 8 February 2018
Added 1 February 2018
'So You Think You Know LIGHTNING, a Collection of Electrifying Fast Facts'
            Ronald L Holle and Daile Zhang, used with permission, courtesy of Vaisala. 
Added 29 January 2018